We are sorry, this page has not been translated yet.
Wines rich in biodiversity since 1980
In 1980, when Karl Schefer saw barren vineyards sprayed with pesticides, he had a vision: that one day, butterflies would once again fly through the vines. He founded Delinat and has promoted wine made from controlled organic cultivation ever since. Today, Delinat offers around 250 wines from the best vineyards in Europe and is committed to a high level of biodiversity in the vineyards as well as climate-neutral wine production.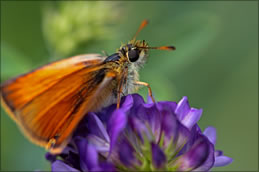 Butterfly species that are rare and even threatened with extinction are returning to the vineyards.
Natural quality is our top priority when choosing winegrowers and their products. The absence of chemicals alone does not make for an enjoyable wine. Natural quality also means doing away with monoculture, limiting the quantity of grapes, choosing suitable grape varieties, greening the vineyards and the winemaker's feeling for the optimal harvest time. Gently and quickly harvesting grapes creates the basis for distinct and pleasing wines. But natural quality also means leaving wines to their natural processes and not employing questionable methods and tricks in the cellar.
Promoting biodiversity
Greening vineyards is an indication to many wine lovers that the winegrower is working in harmony with nature. The plants between the vines provide shelter and habitat for a variety of small creatures, which in turn promote ecological balance in the vineyard.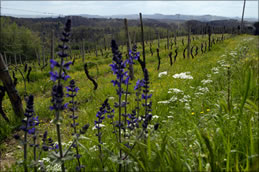 A vineyard that is high in biodiversity produces healthy grapes that are full of character.
Today, more and more winegrowers are greening their vineyards and foregoing the use of herbicides and pesticides, much to the delight of butterflies and nature-loving wine enthusiasts.
Delinat research
But, there is still much to be done. Delinat wants to continue to be an organic pioneer and help to advance the organic revolution. We invest one per cent of our annual turnover into research on sustainable, climate-neutral viticulture with a high level of biodiversity.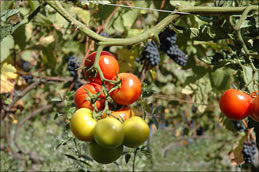 Secondary crops between the rows of vines prevent monoculture and provide a habitat for diverse species. Tomatoes, however, are a rarity in vineyards!
The central principle of quality-oriented viticulture is based on the targeted promotion of biodiversity. Vineyards are ecosystems that require balance through biological diversity. The main objective of promoting biodiversity is the transformation of vineyards into stable ecosystems. Hedges, trees, bushes, wood and stone piles, ponds, herbs, secondary crops (cereals, vegetables, fruits, etc.) as well as ecological compensation areas (fallow land, streams, forest, etc.) are important elements in an intact ecosystem.

Recent focal points of ecologically sustainable viticulture include the cultivation of fungus-resistant grape varieties (PIWI vines) and methods based on permaculture, which can be used to counteract problems related to climate change.
Delinat winegrowers regularly meet to exchange knowledge and experience. Pictured here, Antoine Kaufmann (Château Duvivier) demonstrates the prototype of the Rolojack, which is used to intelligently mulch legumes growing between the vines.
Excellent quality
From the very beginning, Delinat has specialised in direct delivery to consumers by mail order. Today, online sales play an essential role. Almost all of our products can be ordered at www.delinat.com. Delinat also has five wine depots located in Bern, Basel, Olten, Winterthur and St. Gallen, in addition to a Delinat wine shop in Zurich and a Delinat wine bar in Bern.

Delinat's product range includes growers from Italy, France, Spain, Germany, Austria, Hungary, Portugal, Greece and Switzerland. Delinat currently sells over three million bottles of wine a year in the Swiss, German and Austrian markets. This success is above all due to enormous quality improvements in organic farming.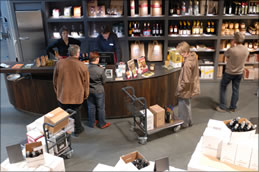 Delinat's wine depots are popular meeting places for wine lovers. Our current wines are always available for tasting and we offer exciting themed tastings led by professionals.
Renowned wine guides (e.g. Guide Hachette, Gambero Rosso and Guía Peñín) already feature organic winegrowers far more frequently than might be expected considering their share of the wine industry. Top estates such as the German wineries BattenfeldSpanier and Ökonomierat Rebholz have switched to controlled organic cultivation to give their wines maximum individual and natural character. International tastings and competitions held by renowned trade magazines regularly confirm that wines from Delinat's product range are among the best in their price class.
Delinat milestones
1980
Karl Speicher founds Delinat in Speicher, Appenzell, Switzerland.
1983
Delinat first issues its guidelines for controlled organic viticulture
1985
First open wine import
1987
Introduction of the tasting service
1990
Purchase of the Château Duvivier vineyard in Provence
1991
Delinat Germany is founded
1994
Opening of the holiday residence at Château Duvivier
1998
First revision of the Delinat guidelines
1998
Opening of Weindepot St. Gallen
2002
Second revision of the Delinat guidelines
2004
WWF and consumer protection organisations in Switzerland award the Delinat label with the highest distinction
2006
Third revision of the Delinat guidelines
2009
Establishment of the Delinat Foundation
2009
Opening of the wine depots in Berne and Olten
2010
Entry into force of the new Delinat guidelines. WWF Switzerland and the Foundation for Consumer Protection award Delinat the rating "highly recommended".
2011
Opening of the Delinat central warehouse in Weil am Rhein
2012
Opening of the wine depot in Basel
2012
A course and travel programme is established with the aim of providing practical insight into viticulture according to the Delinat method.
2013
Delinat is awarded the German CSR Prize for Sustainability in the "Biodiversity" category
2014
Delinat founder Karl Schefer is awarded the prestigious Binding Prize for environmental protection
2014
Opening of the first Delinat wine shop under the roof of a Swiss Alnatura organic market (Winterthur)
2015
Delinat awards "Biodiversity Winemaker of the Year" for the first time. The 2015 winners were Josep Maria Albet i Noya (Penedès) and Massimo Maggio (Sicily).
2016
Erik Bergmann and Lolita Roche succeed Antoine Kaufmann as winemakers at Château Duvivier in Provence.
2017
The Premium Tasting Service is introduced as Delinat's 7th wine subscription. Twice a year, premium subscribers receive limited-edition wines for enthusiasts.
2017
In late 2017, Sylvia and Uwe Fahs' 20 years as hosts of Château Duvivier come to an end. Holiday operations continue under a new concept.
2018
Permaculture makes its way to the Château Duvivier vineyard.
2018
The first Delinat wine bar opens in Bern. A Delinat wine shop opens its doors in Zurich and Winterthur, a wine depot with a bistro opens.
2019
Delinat takes wine shipping back into its own hands and opens a new central warehouse in Grenzach-Wylen.


Delinat Switzerland: 071 227 63 00
Delinat Germany: 07624-33999-0
Delinat Austria: 0820 420 431

kundenservice@delinat.com
Delinat history in PDF format
You can download this article as a PDF here:
Delinat-Geschichte.pdf.
More information on biodiversity and Delinat